SOUTH SHORE ARTS FESTIVAL - 2023



SSAC Presents: Our Festival Preview Gala
Repeat Offenders: TRIIIBE RETURNS
Featuring: Cary Wolinsky, renowned National Geographic Photographer
with artists Alicia Casilio, Kelly Casilio, Sara Casilio

Saturday June 10 | 7:00 - 10:00 pm with VIP Hour from 6:00 - 7:00 pm
Tickets on Sale Now!
Click here for details and to purchase tickets
Join South Shore Art Center on Saturday, June 10 for our annual Festival Preview Gala - this year at a new venue: our very own galleries at 119 Ripley Road, Cohasset. Titled Repeat Offenders: TRIIIBE Returns, this year's gala will offend in the best ways possible by disrupting the way we think about gender and social norms - and even about typical fundraisers. Everything at this event will be surreal and extraordinary, including a delicious tasting menu from the best restaurants south of Boston, an open bar, mind-blowing art, followed by a high-octane dance party.

As always, art is at the centerpiece of SSAC's gala and this year we will feature large-scale works by the collective known as TRIIIBE, including National Geographic photographer, Cary Wolinsky and artists Alicia, Kelly and Sara Casilio (identical triplets). During their intensive, six-year collaboration, TRIIIBE challenged global ideas on identity and stereotypes, using iconography to make pointed social and political commentary. Wolinsky and the Casilio sisters will speak about how their creative journeys merged, the work they produced, and the themes and issues they tackled.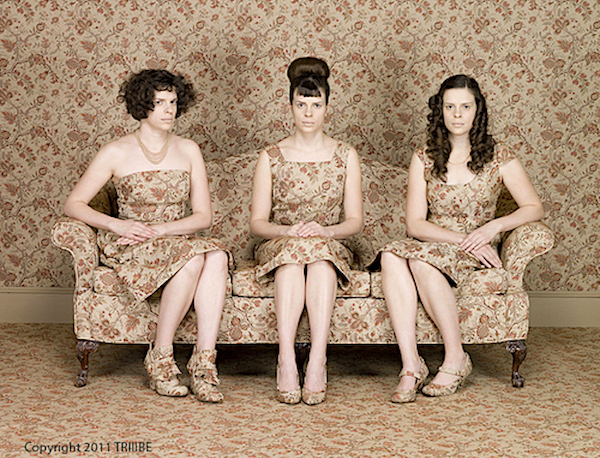 Fine
by TRIIIBE (Cary Wolinsky, Alicia, Kelly & Sara Casilio)
---
Repeat Offenders: TRIIIBE Returns Co-Chairs:
Kaly Molnar * Tricia Rose Stone * Tracy Windham
Host Committee:

Jim Burke
David Cucinotta
Christine & Sean Cunning
Jeannie deMurias
Megan & Gordon Fales
Janice Forgays
Nancy & Tom Hamilton
Cecilia Harries
Andrea & Craig Hillier
Marisa Manley
Patrice Maye & Jay FitzGibbons
Tracey Merrill
Frank & Judy Neer
Lorna Newman
Marisa Olsen
Chris Rifkin
Aubrey Schwartz
Alison & Stephen Sheffield
Elizabeth Sullivan
Erin & Jamie Sunday





About South Shore Art Center
A non-profit organization formed in 1954, South Shore Art Center is dedicated to enriching the communities south of Boston by fostering an understanding and appre­ciation of the visual arts through exhibitions and educa­tion. In addition to a nationally-recognized exhibition program, the Art Center offers courses and workshops for adults and children, and enrichment programs to area schools.






Funded in part by the Massachusetts Cultural Councils' Festivals Program
Contact Patrice Maye, Executive Director, pmaye@ssac.org