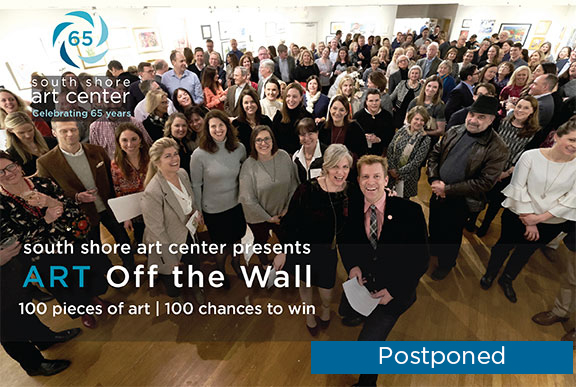 POSTPONED to Wednesday, June 3, 2020

2020 | 7:00PM

South Shore Art Center
119 Ripley Road | Cohasset
Collector's Ticket $200 • Guest Ticket $50
Collectors are guaranteed to acquire an ORIGINAL WORK of ART, valued at $250 or greater!
Hearty hors d'oeuvres and dessert • Wine, Beer, Specialty Cocktail • Creative attire
Cocktails & Art Viewing at 7:00pm • Art Selection begins at 7:45pm
HOW IT WORKS
Each Collector's name will be pulled at random through the evening for the opportunity
to select a piece of art from the Bancroft Gallery's 'Off the Wall' collection.

BENEFIT COMMITTEE
Co-chairs: Annie Ketchen • Suzanne Norris
Wendy Badia • Audra Boyle • David Cucinotta • Susan Etkind • Megan Fales
Kate Farrington • Patrice Maye • Lorna Newman • Alison Sheffield • Erin Sunday
REGISTER NOW!
Limited tickets available. This event sells out fast!
To reserve tickets CLICK HERE, call 781-383-2787, or email info@ssac.org.
Art Off The Wall — Participating Artists and works as of April 21, 2020. More to come!


Kim Alemian
Island Cottage, 2015
oil on linen, 12 x 12 in


Robert Beaulieu
Gulf River, 2019
oil on canvas, 12 x 16 in

Rita Berkowitz
Autumnal Equinox
soft pastel, 18 x 12 in

Joan Drescher
Night Messenger

monoprint collage, 27 x 15 in

Joan Drescher
Summer Dreams
monprint collage, 16 x 33 in

Lisa Goren
Broken Ice, Frozen Ghosts of Autumn
watercolor on handmade paper, 10 x 10 in

Sara Holbrook
My Funny Vanentine
photography, 9 x 7.5 in

Marguerite Moore
Untitled
oil

Laurinda O'Connor
Waters Edge
soft pastel, 8 x 8 in

Anthony Pilla
Eugene O'Neil-Desire, 1990
woodcut, 22 x 14 in

Anthony Pilla
In the Beginning, 2019
woodcut, 11 x 9 in


Dorothy Amore Pilla

Blue Morning, 2015
digital image, 30 x 22 in

Lynn Ray

Summers Cup, 2019

oil on canvas, 30 x 24

Vcevold Strekalovsky

Butch and Sundance, 2019

oil on canvas, 6 x 8 in

Vcevold Strekalovsky

Fish Beach—Monhegan, 2019

oil on canvas, 8 x 10 in

Vcevold Strekalovsky

Monhegan Harbor, 2019

oil on canvas, 8 x 10 in

Vcevold Strekalovsky

Southwest Harbor Afternoon, 2017

oil on canvas, 8 x 10 in

Jane Tracy
Untitled (diptych)

acrylic on canvas, 20 x 40 in (20 x 20 in each panel)

Valerie Forte Vitali
Thaw, 2020

oil on board, 24 x 24 in
---
About South Shore Art Center
A non-profit organization formed in 1954, South Shore Art Center is dedicated to enriching the communities south of Boston by fostering an understanding and appre­ciation of the visual arts through exhibitions and educa­tion. In addition to a nationally-recognized exhibition program, the Art Center offers courses and workshops for adults and children, and enrichment programs to area schools.
To Register - Copy and paste the link below into your browser
http://events.constantcontact.com/register/event?llr=jeixpcbab&oeidk=a07egjvv4pya3b5a4ba

Contact Patrice Maye, Executive Director,
---